Springfest 2021: Building Community, Creativity, and Confidence among Young Burn Survivors
Posted on May 5, 2021 in Camp, General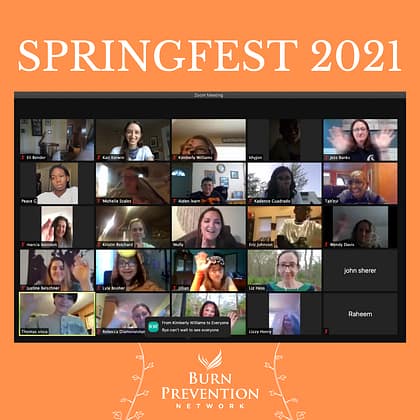 In such an uncertain time, how does virtual camp engage and transform lives?
On Tuesday, April 27th, campers and volunteers logged onto Zoom for another action-packed virtual camp experience, Springfest. Springfest is an initiative of our Camp Susquehanna program, which is a fun and safe environment for young burn survivors to make friends and memories that will last a lifetime.
Camp volunteer Molly Principe has been working with Camp Susquehanna for 13 years and says that after all that time, everyone leaves camp feeling like family; she even exclaimed that she cherishes camp so much that she'd "choose camp over a family vacation!". As each camper joined the Springfest Zoom one by one, Molly's smile grew wider and wider, welcoming each camper with warmth and palpable excitement for the night.
The night of festivities began with everyone showing off their impressive animal costumes. From animal face paint to cat masquerade masks, the creativity was flowing!
The big event of the night was making bird feeders from recycled water bottles. Every camper had been sent  "Camp-in-a-Box", which provided all of the bird feeder materials, including supplies like stickers and pom-poms for decorating the bird feeders.
Although camp has looked different this past year due to the COVID-19 pandemic, the opportunity to hold virtual "fest" events once a season has been an unexpected joy. Volunteer Molly described having to go virtual in the wake of the pandemic as a "blessing in disguise", because it opened the door to connect with campers who live far away, or are still in the hospital seeking burn-related treatment.
When asked what their favorite part of Springfest was, many campers said the same as camper Aiden: "being able to be back at camp!". Camper Courtney said that her favorite part of camp was "getting to see people [from camp] more than once or twice a year". We couldn't agree more with Courtney and Aiden that these virtual fest events have been a silver lining throughout this pandemic. The opportunity to connect with other young burn survivors near and far at several points throughout the year has been an unexpected but truly impactful experience for campers.
Luckily, the fun doesn't stop with Springfest: we just announced that Camp Susquehanna will be July 20th-31st this year, and will be VIRTUAL! Learn how you can support us in making camp a life-changing experience for our campers here.
Kaitlyn Kerwin
Communications Coordinator, Burn Prevention Network