Valley Preferred Spirit of Courage
Filter By Section
2023 Event

Thank you to everyone who attended or watched the livestream of this year's event.  We look forward to seeing you next year.
2023 Awardees
Spirit of Courage Awards 
Reading, Marion Street – 10/15/2022
Firefighter/EMT Garry Clarke & Firefighter/EMT Joshua Green
Reading, Schuylkill Avenue – 10/29/2022
Firefighter/EMT Kevin Ayers, Firefighter/EMT Kieran Dolan, & Firefighter/EMT Ronald Frey
Scranton, Hickory Street – 11/20/2022
Firefig hter Nick Azzarelli, Firefighter Lieutenant Joseph Chesek, Firefighter Kyle Saldonis & Firefighter Captain Matthew McDonald
Pottsville, Arch Street – 5/9/2023
Police Officer Michael Hrebik
Palmer Township, Main Street – 5/21/2022
Deputy Fire Chief Jim Alercia, Fire Battalion Chief Ken Sobieski, Police Officer John Billiard, Police Officer Evan Goldstein, Police Officer Kyle Kromer, Police Officer Maurice Burton, Emergency Medical Technician, Christopher Finan, Jr., Paramedic Jeremy Slack, & Dr. Thomas W. Stauffer, DO
West Penn Township, Clamtown Road – 12/7/2022
Assistant Fire Chief Zachary T.A. Paris (Posthumous)
Firefighter Marvin Gruber (Posthumous)
Walter J Okunski Phoenix Award
Leah John
Eleos Award
Jennifer Nagle, RN (Posthumous)
Prevention Partner Award
Fire Chief James Misstishin, Sr.
Chairman's Award
West Reading, R.M. Palmer Explosion – 3/24/2023
All First Responders involved in incident
2022 Pictures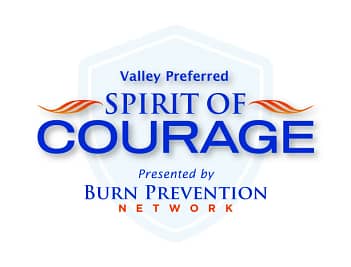 Thank you to all who attended in 2022!
2022 Awardees
The Walter J. Okunski Phoenix Award
Chris Kudela | Gilbertsville, PA
Nominator: Elisha Elliott Leavy, Social Worker, Walter Okunski Regional Outpatient Burn Recovery Center, Lehigh Valley Health Network Regional Burn Center
Award is sponsored by MedEvac-LVHN, Department of Public Safety.
The Partner in Prevention Award
B Daniel Dillard | Bethlehem, PA
Nominator: Corissa Rolón, MA CFRE, Executive Director & CEO, Burn Prevention Network
Spirit of Courage Award
Kristen Simpson | Scranton Counseling Center, Scranton, PA
Kenneth Moore –  Scranton Counseling Center, Scranton, PA
Michael Ruane – The Prescription Center, Scranton, PA
Nominator: Bill Citino, Scranton Counseling Center, Scranton PA
Spirit of Courage Award
Ryan Chu – Eastern Salisbury Fire Department, Allentown, PA
Dennis Takacs, Jr. – Eastern Salisbury Fire Department, Allentown, PA
Richard Rolen – Eastern Salisbury Fire Department, Allentown, PA
Joshua Wells – Western Salisbury Fire Department, Allentown, PA
Nominator: Chief Ian Dodson, Eastern Salisbury Fire Department, Allentown, PA
Spirit of Courage Award
Kenneth Brooke, Jr. – City of Reading Department of Fire Rescue, Reading, PA
Nominator: Deputy Chief Michael Glore, City of Reading Department of Fire Rescue, Reading, PA
Spirit of Courage Award
Kenneth Brooke, Jr. – City of Reading Department of Fire Rescue, Reading, PA
Matthew Azrolan- City of Reading/Department of Fire and Rescue Services, Reading, PA
Joshua Green – City of Reading/Department of Fire and Rescue Services, Reading, PA
Cody Schaeffer – City of Reading/Department of Fire and Rescue Services, Reading, PA
Timothy Conti – City of Reading/Department of Fire and Rescue Services, Reading, PA
Jeffrey Schrack – City of Reading/Department of Fire and Rescue Services, Reading, PA
Patrick Walls – City of Reading/Department of Fire and Rescue Services, Reading, PA
Nominator: Michael Glore, deputy chief, City of Reading Department of Fire/Rescue Services
Spirit of Courage Award
Steven Turner – City of Reading/Department of Fire and Rescue Services, Reading, PA
Kurtis Knauss – City of Reading/Department of Fire and Rescue Services, Reading, PA
Nominator: Michael Glore, deputy chief, City of Reading Department of Fire/Rescue Services
Spirit of Courage Award
Eric Billimoria – Lower Saucon Fire Rescue, Bethlehem, PA
Bryan Evans – Lower Saucon Fire Rescue, Bethlehem, PA
Chris Miller – Dewey Fire Company, Hellertown, PA
Scott Nocek – Lower Saucon Fire Rescue, Bethlehem, PA
Nominator: Fire Chief Ty Johnson and Fire Chief Matt Simkovic, Dewey Fire Company
Spirit of Courage Award
Seth Yahraes – Plainfield Township Volunteer Fire Company, Wind Gap PA
Paul Strohl – Posthumous award
Nominator:  Chief Alexander Cortezzo III, Plainfield Township Volunteer Fire Company
Spirit of Courage Award
Benjamin Steidinger – Germansville, PA
Honorable mentions for this award:
Megan Saltsman – Lehigh County 911 Dispatch, Allentown, PA
Shane Devlin – Lehigh County 911 Dispatch, Allentown, PA
Nominator: Deputy Chief Randy Metzger, Chief Jay Scheffler Germansville Fire Department
Spirit of Courage Award
Robert Watkins – Nesquehoning, PA
Thomas Kattner – Nesquehoning, PA
Nominator: Fire Chief John McArdle, Nesquehoning Hose Company #1
2022 VPSOC WFMZ Broadcast Event
Broadcast Event