Firefighter Focus: Derrick Sawyer
Posted on Feb 16, 2022 in Featured Partner, General, Prevention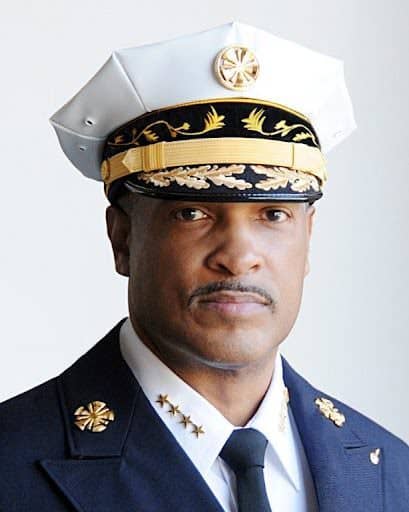 In celebration of Black History Month, Burn Prevention Network spoke with Board Member Derrick Sawyer, former Philadelphia Fire Commissioner and the first African American Fire Chief of the Upper Darby Township Fire Department.
Becoming a firefighter was the last thing Derrick Sawyer thought he'd do when he got out of the Air Force in 2000. Having worked for four years as a special apparatus mechanic—a job that involved servicing fire trucks—the young airman had developed a biased opinion of the profession. "I had somewhat of a disdain for firefighters because they were always breaking firetrucks, and I would have to fix them," he admits with a smile. "So never in my wildest dreams did I think that I would become a firefighter."
Fortunately, the Philadelphia-born Sawyer kept an open mind when he learned the city was hiring for the fire department. After passing the test and acing his interview, he decided to give the job a chance. "And I realized that it was a perfect fit for me," he says proudly. "As a person who's truly into helping people, it kind of felt right in line."
Sawyer worked his way through the ranks during his more than 20-year tenure at the Philadelphia Fire Department, serving as Lieutenant, Captain, and Battalion Chief. He also went back to school to get his Bachelor Degree in Public Safety and his Master's Degree in Homeland Security before becoming Philadelphia's Fire Commissioner in 2014. As one of only two Philly firefighters to hold every rank from firefighter to commissioner, Sawyer's extensive and exceptional experience gave him a nuanced understanding of the fire department as a whole.
"Some people become a commissioner and they never work in staff, so they don't understand administration; they only understand operations," he explains. "And some people work primarily in administration and don't understand the operations side. I was well-rounded in that I had experience on both sides of the house."
In 2020, Sawyer made history when he was sworn in as Upper Darby's first African American Fire Chief. In addition to ensuring the safety of the township's 85,000 residents and visitors, Sawyer is responsible for the safety of every single service member in the department. "It's my job to make sure everyone goes home the same way they come to work," he says as he displays a band he wears on his wrist with the words, "Everyone goes home."
Sawyer's job also requires making sure the community is properly equipped when it comes to fire education and prevention. "One of the things that's unique about my position is that I have to be a leader, not just in the fire service, but in the community as well," he says. "So that leadership role transcends from fire operations to community and public safety. I have to think about the community, what they need, how I can help educate them and keep them safe."
When I ask Sawyer if he ever feels overwhelmed by having so much responsibility on his shoulders, he immediately says no. "I think I look at it more as part of the calling," he explains thoughtfully. "That's why it was so natural for me to ascend through the ranks, because it was my calling. I was put on earth to do this."
Susan Linney