The Cost Of Being A Hero
Posted on Jan 10, 2023 in Featured Partner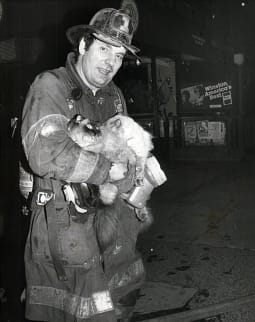 Story by WFMZ's Nancy Werteen.
If my dad came home from work with soot around his eyes and the edges of his ears, with a mood as black as the ashes, after a look from my mom, we all knew to give him space. In this unspoken transition between work and home life, our family gauged his mood and knew he was lost in a failed rescue and needed space.
As a New York City firefighter in an elite rescue squad in Manhattan called Rescue 1, the company was tasked with the rescue first and then knocking down the fire second. The den in our house was lined with newspaper photographs of my dad carrying men, women, children, and pets to safety with raging fires in the background. I would stare at these images. In one frame, he holds an unconscious man partially slung over his shoulder. The man had been sleeping when the fire broke out without any clothes on; his stark white skin was blotted with soot but still bright against my dad's dark turnout coat. You can't see the man's face, but you can see my dad's. Sweat prickles on his forehead under his helmet, his back is arched with effort, and his face contorted as he yells for medical help. He received an award on medal day, and we got to meet this man my dad had ripped from a burning bedroom and then ran to the fresh air of the sidewalk.
Today, my dad is 88 years old. He can still tell you incredible and intricate details of the many memorable fires of his career: where they were, which of his fellow firefighters were there, and how they chose to knock down the fire. He loves to regale others with stories of the chaos in mid-town Manhattan that surrounded a firehouse on 42nd Street. His body is like a roadmap of injuries-the leg that spent destructive seconds in flames after he fell through a ceiling, the tendon he severed in his hand when he shattered a window. In his day, these firefighters didn't wait to put on protective gear, like masks; they just went in with their breath, muscle, and instincts.
I grew up knowing my dad had a second family. His firefighting brothers would all die for each other, and some did. The sacredness of their bond reached all of us. We always knew if anything went wrong when my dad was away in the city, we were to call another firefighter who would be there in record time to fix the washer or start the car.
His job wasn't really a job. It was a lifestyle and a choice that most people wouldn't want to make. My dad has always been so proud of his service and to be part of the firefighting family. He knew he would be asked to fight fires when he signed up. He knew he would carry people out of burning buildings, but he didn't know he would carry the ones he couldn't save too, in his heart, for the rest of his life. He ruminates now on the fires that haunt him.
"I should have turned right, and I went left. I thought for sure the kids were that way," he'll say with a mist over his eyes. He still hears their screams and sees their mother's tears.
This is what we ask of heroes. As I listened to the awards on the evening of the Valley Preferred Spirit Of Courage awards, I thought of what a hero really is. They are people brave enough to risk carrying others in one way or another-to safety or to their final moments. They are the ones willing to reach out their hands to you in the most terrifying time of your life with comfort, care, and strength. They are willing to take this risk and its consequences. They are the ones we applaud for trying their absolute best.