Burn Prevention Network Unveils New Camp Susquehanna Logo
Posted on Mar 16, 2023 in Camp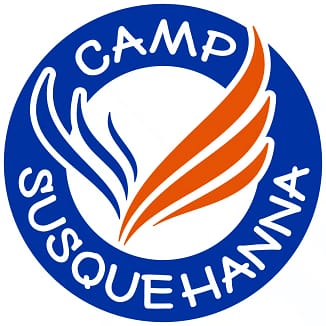 Burn Prevention Network (BPN) is excited to announce a new logo for their summer camp, Camp Susquehanna. The new logo is simultaneously fresh and nostalgic;  it highlights the program's connection to BPN and honors its history with components of the previous one. The logo's refresh leans into the future of Camp Susquehanna and emphasizes its focus on resiliency, trauma-informed care, and social support.
Camp Susquehanna is a free sleepaway summer camp for children ages 7-17 who have had a burn injury and is made possible by generous donors, supporters, and sponsors each year. Campers of all ability and function levels can have fun, learn life skills, and meet other burn survivors through activities such as swimming, music, communal meals, fishing, ropes courses, and campfires. Each year, campers form special bonds with camp counselors who act as their role models and inspirations.
"We are quite excited about having a new logo and the opportunity to usher in a new era of Camp Susquehanna," says Corissa Rolón, CEO and executive director of BPN. "Camp Susquehanna puts into motion everything that the Burn Prevention Network stands for, and it is such a joy to provide life-changing experiences to burn survivors, year after year. We hope that the new logo communicates our goal of cultivating resilient and supported survivors."
Camp Susquehanna has been making a difference in the lives of youth burn survivors since its founding in 1994. Alan Breslau, a burn survivor and founder of the Phoenix Society for Burn Survivors, gave a lecture to the Lancaster Byler Sertoma Club in 1994. The members were so inspired by his words and actions that they were moved to collaborate with him and start Camp Susquehanna. It hosted eight children in its inaugural summer and has only grown since then. BPN began managing the program in 2015.